Agricultural Scales and Tru Test Farm Weighing Equipment
Tru-Test MP Multi Purpose Loadbars
MP Series load bars are designed for use in a wide variety of applications, including under cattle platforms, sheep crates, wool presses and other multi-purpose applications.
They are portable and can be easily moved to different weigh sites. MP load bars are available in three lengths.
Set of (2) loadbars made for use with Tru-test indicators.
Designed for portability. With a firm and level surface, it's quick and easy to set up this scale.
Multi purpose loadbars come in three sizes: 23", 32" and 39". Coated to resist corrosion.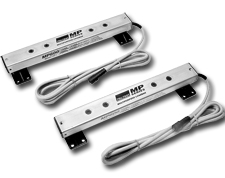 | | | | | |
| --- | --- | --- | --- | --- |
| Part# | Description | Size | Capacity | Weight |
| 805122 | MP-600 Loadbars | 23" x 4" H | 4,400lb | 33 lb |
| 805123 | MP-800 Loadbars | 32" x 4" H | 6,600lb | 48 lb |
| 805124 | MP-1010 Loadbars | 39" x 4" H | 6,600lb | 53 lb |