PRODUCTS
Agricultural Scales and Tru Test Farm Weighing Equipment
Tru-Test Aluminum Cattle Platform
The Tru-Test aluminium cattle platform is an essential item for cattle weighing operations. The Tru-Test cattle platform is a unique product with a weld-free folded construction.
• Designed for use with MP600 load bars.
• Weighing only 70 lb. the platform is easy to move between weigh sites.
• Unique non-slip surface for animal safety and minimises build up on the platform.
• Angled sides keep the animal in a central position, improving the speed and accuracy of weighing. Angled sides prevent animals stepping on the side of the platform and leaning against the race / alleyway.
• Manufactured from high quality, 4mm marine grade aluminium, the platform is lightweight and corrosion resistant.
• A Carry handle provides a convenient method for carrying and storage.
• The folded construction ensures that welding, a possible weak point on more conventional designs, is not used.
• Folded design ensures that the platform is very stiff along the length of the platform, ensuring weighing accuracy.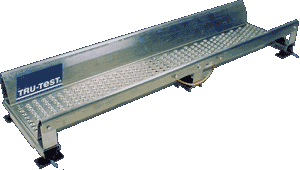 | | | | |
| --- | --- | --- | --- |
| Part # | Description | Size | Weight |
| 805829 | Tru-Test Alleyway platform | 24"x7'x4" | 70 lb |